ENDEAVOR EGYPT CONCLUDES 1ST EDITION OF ITS FIRST FOLLOWERS PROGRAM
Introducing a new way to support Endeavor Entrepreneurs in scaling-up their businesses, Endeavor Egypt launched the first edition of 'First Followers': a program designed to professionally develop and empower the executive and management teams in companies led by Endeavor Entrepreneurs (EEs).
Launched in October 2019 with the CMO vertical, the program brought together the marketing team members of 20 EE companies over seven sessions held once a month to discuss topics that address their common challenges. Incorporating both strategy-focused sessions and peer-to-peer meetings, the program provided the space for participants to not only gain expertise, insight and knowledge, but to also build connections and collaborations between one another.
Strategy-focused sessions were led by industry-experts covering a range of topics from branding and digital marketing to growth strategy. Dina Aly, EE and Managing Director of Matter, kicked off the program with a session on Building a Brand Identity, sharing case studies from around the world that highlight the impact of a strong brand on business growth.
This session was followed by one led by Endeavor Mentor Randa Abdou, CEO of Creative Lab Group, who delivered her notable Madrous session on her top lessons learned from her 30-year career in marketing and advertising, and shared best practices in executing a focused marketing strategy.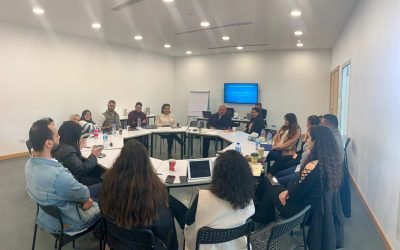 Covering digital marketing strategy, lead generation and performance marketing, Endeavor Mentor Karim Khalifa, Former CEO of Digital Republic and Moataz Kotb, Managing Director of Cultark, co-led a roundtable discussion in which participants explored case studies, the 360 ̊ view of digital marketing, and new trends in online consumer behavior.
Participants also had the opportunity to openly share with experts the practical challenges they're facing. With Endeavor Mentor Omar El-Banna, Country Head – Egypt & Africa of MAF Ventures, and Diana Elassy, Director of Strategy and Development at TRACCS Egypt, participants received case-by-case consultation on overcoming their challenges in growth strategy and public relations strategy, respectively.
"We found the sessions very beneficial. They gave us the chance to interact and get closer together, and they really hit on important subjects and topics that everyone was looking for," reflected Hesham Mansour, General Manager of Imtenan. "Two sessions in particular were so insightful that we brought them back to our strategy, launched campaigns and did extended deals to benefit from the learnings we got from the sessions."
Held alongside the expert-led sessions, the program's peer-to-peer meetings served as a time for participants to exchange best practices, inspire business collaboration and build connections together. Hailing from companies operating across various industries, from traditional to modern, as well as different business models, CMOs in the program brought diverse perspectives and approaches to the conversations in the sessions.
"Endeavor helps us in the way that we can get to know more people, get to know their experiences, learn how our solutions can be of help to them, and more," described Noha Abdeltawab, Inbound Marketing Lead at Cequens, on the program's peer-to-peer element.
Following the conclusion of the First Followers CMO Program pilot in April 2020, Endeavor Egypt is aiming to launch its second edition of the program for Human Resources Directors in July 2020 to expand its effort in scaling talent at Endeavor Entrepreneurs' businesses in this critical time, and helping team members bring back knowledge, inspiration and expertise to their companies.