by admin
June 10, 2020,

Comment off
WELLSPRING: EMPOWERING THE NEXT GENERATION OF LEADERS
Endeavor Entrepreneur Maged Fawzy founded WellSpring in 2009 with a vision to build a purpose-driven company that directly and tangibly impacts Egypt's youth through experiential learning camps. Every year since, WellSpring has been growing and with it its impact: bringing together thousands of children from across Egypt through its programs and camps. 
As the company recently celebrated its 10 year anniversary, we sat down with Maged who reflected on WellSpring's past decade, how he will pave the way for the future of his high-impact business and on the prospects of WellSpring in the face of the current pandemic.
The Beginnings 
WellSpring is an education and training company that works with private and public schools and universities, governmental institutions, non-governmental organizations, and corporations to offer a variety of customized camps including day camps, overnight camps, family camps, abroad adventure camps as well as programs in leadership, family and character development. 
"Egypt is one of the countries where education is extremely important, but there was no alternative to traditional education in the market when I started," reflected Maged on founding WellSpring. "I realized that I could attract and encourage a multitude of people from the region and abroad to come to Egypt to attend our camps because – essentially – we offer something you can't find in the classroom or in a traditional academic setting." 
Transforming his impact-driven vision into a scalable business model, Maged was able to introduce an unorthodox but complementary solution to fill gaps in Egypt's traditional education system.
"Ultimately, I knew I wanted to empower and train the new generation and the youth to become future leaders, decision-makers, and to have maximum authority over their own work. The only question was how?" shared Maged.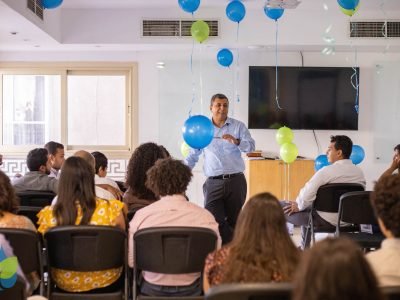 Through accredited leadership and character-building curricula led by highly trained counselors, WellSpring equips the next generation of leaders with the moral values, skills and tools needed to transform their lives and communities at large. 
Scaling WellSpring By Fostering Talent
"I've always wanted our impact to be as wide-reaching as possible. At first, I started working with all the international schools in Egypt, and then I realized that this doesn't encompass the new generation entirely, so I started working with public schools to reach their students. I made it a priority to include these public schools in our reach and thanks to the support of many local socially-conscious and like-minded corporations, banks and organizations, over the years we were able to deliver on our commitment to achieve a broader reach and impact," shared Maged. 
With these changes in place and through its multiple channels, which include schools, clubs, corporations and open enrollment events, WellSpring is widening the opportunities present for Egyptians with underprivileged backgrounds, inching closer to its aspiration of building a powerful generation of future leaders. 
But as the business grew, the challenges and unfamiliarities grew in parallel. 
"The biggest challenge we faced is maintaining the quality of our services. We're always trying to make sure the quality stays consistent as we grow," said Maged.  
Indeed, one of the notable ways WellSpring is able to sustain its quality offerings is through the acquisition and unique management of its talent. Every year, WellSpring attracts thousands of college-age students and offers them periodical curated training courses to become future leaders, thus playing an important role in boosting Egypt's employment rate and driving transformational change and impact. 
The energy and enthusiasm the staff and volunteers bring to the camps is an essential element of the WellSpring camp experience. 
"Right now, we have people that joined our camps 10 years ago being hired at WellSpring, and this is because they have sufficient experience, embody our values and are driven by our mission," shared Maged. 
As a CEO, Maged is also encouraging his team members to take on various roles within the business so that those around him can leverage their own strengths to take the lead in their areas of expertise and serve as a source of inspiration for him as well as the business. 
"I'm trying to find who's better than me in finance, operations and business development so they can work with us. I firmly believe that people around me need to be better than me so we can perform better overall, and that's what I'm aiming to implement as soon as I can," added Maged. 
Today, thanks to Maged's leadership and the efforts of WellSpring's stellar team, the company has achieved massive impact, hosting 200,000 individuals in 2019 alone in its variety of camps and expanding its footprint from Egypt to the UAE, Jordan, Morocco, Lebanon and beyond the region.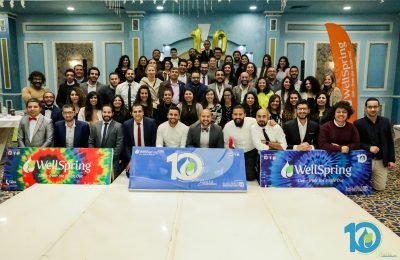 This being said, as the recent, ongoing crisis hit, the priorities and challenges of the business shifted as a means to manage the crisis, but also adapt to the 'new normal' and to find new avenues for growth in the current circumstances. 
Adapting to the 'New Normal'
With in-person interaction and intimate gathering being the essence of WellSpring's camps, the core of the business was hit hard when the crisis struck. 
"The biggest difficulty we're facing right now is the fact that we don't know what's next, everything is uncertain. Our plan is changing every day. At a time when government restrictions are quickly evolving and the situation is so fast-faced, it's almost impossible to plan anything ahead of time," shared Maged. 
Maged and his team immediately started rolling out various innovative solutions in the face of the current restrictions, while simultaneously maintaining the value and spirit of WellSpring's real-life camps. 
"Starting mid-March, we started receiving cancellations on our events. By April, we had pivoted to online camps, which went well, but didn't fully capture the on-ground WellSpring camp experience. Right now, our aim is to re-evaluate how we can make online camps work," added Maged. 
Other than directing his focus to making online camps more interactive, Maged and his team are prioritizing taking a forward-thinking approach in order to open up new opportunities that will accelerate the growth of the business – as well as the team's professional development – in a crisis, and post-crisis world. 
10 Years Down the Line: What's Next? 
Despite the turbulent times we're living, Maged's belief in better days ahead for his company, and the world, remain firm. 
"I'm hopeful that things will fall into place eventually, whenever that may be. If anything, what happened has only given me more drive and motivation to do better and plan bigger. I'm hopeful we'll go back to how things were, if not better," reflected Maged. 
In the next 10 years, Maged aspires to continue transforming the lives of as many young people as possible, especially the less privileged. 
"I'm hoping to continue doing what we're doing and to continue providing unforgettable experiences for the children we serve through our camps, especially for those coming from public schools. When we started including students from public schools in our camps, we asked one of the kids on his reflections for the day and he responded 'this is the first day of my life,' and that's when I know we've done something right." 
Maged is also hoping to maximize WellSpring's impact by utilizing the company as a platform to foster tourism in Egypt for children from across the globe. 
"Students from all over the world study Egyptian history and are fascinated by it, but not enough people visit. We're planning on creating a program that encourages many more people to come and explore Egypt – from Alexandria to Sharm El Sheikh to Wadi El Natroun. This is something I've focused on recently, and hope to implement once things settle," shared Maged. 
Having achieved incredible success and created substantial impact not just on a community but also individual level by instilling the values and inspiration needed for the new generation to prosper, WellSpring's journey doesn't stop here. 
In light of these trying times, Maged is exceedingly committed to coming out the other side stronger and more agile to scale his business to greater heights.